We create great looking web applications for companies of all types and sizes
Each and every website design requires a level of creativity in order to stand-out. At the same time, it needs to be informative enough to present the accurate picture of your company or organization and the services you offer. The key to having a successful Internet presence is the web designing aspect.This ensures that the site is informative yet all viewers irrespective of the hardware/ software they are using see interesting enough to attract and retain a viewer's attention.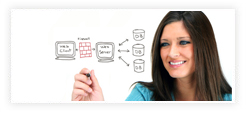 World Wide Web has transformed the world in to a global village where all the organizations are striving to occupy distinguished places. A prestigious presence on the Web reinforces a mission of an organization accelerating growth.
Everybody is aware of the advantages Internet offers over traditional media in terms of economy, breadth, reach & social impact. Web presence has become a necessity for every business or individual.Our approach is team based. We want your site to be a top quality site and make your investment rewarding.We sincerely believe a happy and satisfied customer is the best advertisement of our services.
Web Development services:
Database design and programming
Database integration
Data importing
Dynamic page creation
Developing web interface for data entry
Create custom site engine
Add features to or modify existing script
We have a dedicated team and pool of experts for our web application maintenance and support services, which are aimed at ensuring stable and uninterrupted operation of your business system and give our customer an add on advantage to ensure they have all the peace and faith to get unmatched solutions from us.. These maintenance and support services include problems analysis, resolution and application enhancement to name a few.
From Small to large organizations whether it's a simple web application or intranet web application development, Momentum can help you every step of the way.