Creativity at its best, where ideas meet reality!
World Wide Web has transformed the world in to a global village where all the organizations are striving to occupy distinguished places. A prestigious presence on the Web reinforces a mission of an organization accelerating growth.Everybody is aware of the advantages Internet offers over traditional media in terms of economy, breadth, reach & social impact. Web presence has become a necessity for every business or individual.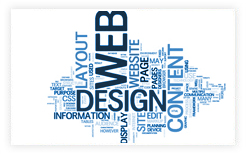 The main reason for the popularity of the web site is the less entry barriers and the fact that the web treats a small business at the same level as that of a multi billion-dollar corporation. And main benefit is that, you are visible online to the whole world 24 hours a day throughout the year. That means virtually your office is open for business 24 hours, seven days a week(24 X 7).
Your web-site can be a powerful tool for your company as it captures and keeps your customers attention giving them the right impression of your business. Our customers are corporations looking for high-end web sites with emphasis on excellent design. We approach every web site as an integral part of a client's business. We start by learning about the client's business and goals, and review prior promotional materials, which often includes an evaluation of an existing web site.
Adros System offers a wide spectrum of professional yet affordable web designing company delhi, including high quality website design, flash and multimedia presentations and corporate identity development.
Our talented and skilful team of designers can ensure a powerful and effective presentation of your company on the web. Whether your old website needs revamped or you are venturing onto the web development for the first time, we have the expertise and resources available to design a site you can be proud of. Our goal is to make your site appropriately reflect the nature of your business or organization.
We create great looking website designs for companies of all types and sizes, from startups to large blue-chip organizations. Whether it's a simple web page, complete internet web site, intranet, extranet or web application development, Momentum can help you every step of the way.
When you deal with us you will certainly visualise the expertise we bring in to step an extra mile towards unstoppable success.